In Chile, the national census is taken every five years. Wednesday, April 19, 2017 was census day, and people were forced to take a confined (paid) holiday in order for census workers to get around to them and conduct a ten-minute household interview. The idea was that other than emergency personnel and the census takers themselves, everyone should have been in his home. (That fact might explain why there was a large, Summer-style traffic jam coming into Reñaca the evening before.) At any rate, every resident, tourist, newborn (but excluding unborn children) that was located in the home as of 00:00 on April 17th was counted as living there. Even people that died later that day were included (even if the death was prior to the arrival of the census taker).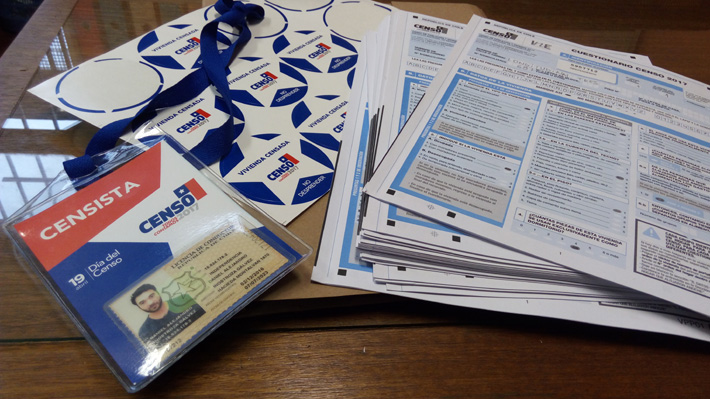 All stores were closed, at least until 8 p.m. Bus and Metro lines only ran for a couple of hours in the morning and evening in order to bring census workers to their locales. Census workers started quizzing people at 9:00 (except for homeless people, which were counted earlier before they got a chance to get up and move away). In spite of the wide publicity about the coming census, many people were still surprised when the knock on the door came. Our census taker, a young man doing military service apparently, did not arrive until after 1 p.m., and we were only the second household of the eighteen he was required to do. He was obviously behind schedule.
President Bachelet herself went to Renca (a lower middle-class comuna in north central Santiago) and personally did the census for eighteen households. She saved taxpayers 15,000 pesos, or about US$23 (supervisors got US$15 more), that would have been paid to someone else. The young man that came to our home said that he received nothing for the effort, since it was apparently part of his public service requirement.
Census questionnaires were available in Mapudungun (local Indian/Mapuche language), English, Portuguese, Creole (reflecting the growing Haitian population), French and German. The census committee wanted to make sure to correctly count tourists, new arrivals and tribal elements within the overall population. Hotel guests and passengers on trains, planes and buses were given questionnaires to complete, too, albeit with different questions than households received.
Overall, for most people, Census Day was boring and largely unproductive. Some people with small shops still opened, like my vehicle mechanic, and people with Internet-based businesses could still work. But there was little economic activity resulting from people moving around or shopping.
Many people feared (and newspapers reported) that some of the twenty-one census questions had been turned in a politically correct direction, like allowing people to declare their gender, even if different than their sex at birth. I am not sure how much traction this particular rule got, but it was annoying to read about it. Nevertheless, the census worker did not ask us our gender, but rather decided for himself that I was a man and my wife was a woman. Hence, the transgender questions were probably put "out there" for public image purposes while in reality Chileans just ignored the provision. I inquired about the matter with the young man doing the census and he just shrugged and gave me a puzzled look. Apparently, he was not gender-confused. I bet the vast majority of Chileans are not.
The "head of household" had to be declared in each home, and could be anyone age fifteen or older, regardless of gender or income. Again, in the case of our census-taker, we were never asked who headed the home, as it was evident that I did. Once again, political correctness was trumped in Chile. The gender and head of household gestures were published as a concession to leftists that ended up meaning nothing in reality.
Contestants were, apparently, allowed to remain anonymous, by only giving nicknames to census personnel. We just gave him our names when asked, since we did not find the census to be intrusive. No question was asked about household religion, as people on WhatsApp had been discussing during the week before. The only questions asked of a personal nature were one's age, how many children he has (living or dead), one's employment status, if he had a job last week, one's city of birth, where one was located during the last census (in 2012), where one's mother lived when he was born, and how many years of education one had completed.
In sum, the census was simple and hardly as contentious as some people were making it out to be. Just in case you are here in 2022, you can expect to go through the same process.
The bigger contention came late in the evening on Census Day, and the next day, when it was revealed that many people living in large buildings and certain provinces did not get counted. Scores of people wrote comments under online news stories that people were neither interviewed nor counted in places in Santiago like Maipú, Ñuñoa, Conchalí, Estación Central, Quilicura, plus provincial cities and towns like Colina, La Serena, Puerto Varas, Peñaflor, Quilpué and Ercilla. In Maipú alone, 1,358 census workers did not show up to do their job. Elsewhere in Santiago, 390 census takers did not show up in Cerro Navia (and 1,500 homes were missed) and 350 failed to do so in Pedro Aguirre Cerda (leaving 7% of homes missed). The Instituto Nacional de Estadísticas reported similar problems with absenteeism (on a lesser scale) in San Ramón, Conchalí, Cerillos, San Miguel, San Joaquín, Macul, Ñuñoa, Las Condes, La Pintana, La Granja, La Florida (where 3,000 homes were missed), La Cisterna and Huechuraba.
Like most public policies, the 2017 Census was an example of government failure. Replacements (usually bureaucrats from the municipalities) were running around the next day, and even for a couple weeks afterwards, trying to collect the missing data. Just how accurate Chilean censuses end up being is a matter for considerable debate. Academics are also upset that more questions were not asked during the push. To go to such an effort and yet only collect a paltry amount of data seemed quite wasteful to them. It is good to have it over and done with.
Fuente: Emol.com – http://www.emol.com/noticias/Nacional/2017/04/20/854989/Censo-2017-En-Maipu-1358-voluntarios-inscritos-no-llegaron-a-sus-locales-para-el-proceso.html
Be sure to become a member of Escape America Now and gain access to the monthly webinar. Details at www.esccapeamerianow.info. Visit AllAboutChile.com for discussion and forums about the country.
Dr. Cobin's updated and enlarged 2016 book, Life in Chile: A Former American's Guide for Newcomers, is the most comprehensive treatise on Chilean life ever written, designed to help newcomers get settled in Chile. He covers almost every topic imaginable for immigrants. This knowledge is applied in his valet consulting service–Chile Consulting–where he guides expatriates through the process of finding a place to live and settle in Chile, helping them glide over the speed bumps that they would otherwise face in getting their visas, setting up businesses, buying real estate, investing in Chilean stocks or gold coins, etc. The cost is $149.
For a brief introduction consider Dr. Cobin's abridged book (56 pages): Chile: A Primer for Expats ($19), offering highlights found in the two larger books. Buy Dr. Cobin's Public Policy books at Amazon.com:
Christian Theology of Public Policy: Highlighting the American Experience (2006)
Bible and Government: Public Policy from a Christian Perspective (2003)
A Primer on Modern Themes in Free Market Economics and Policy (2009)